ARDI statement on the murder of George Floyd and police brutality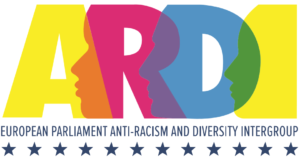 ARDI statement on the murder of George Floyd and police brutality
"European leaders to break the silence and protect fundamental rights of people suffering racism and xenophobia, including at home"
June, 2020
Brussels
Our deepest condolences to the Floyd family.
The shocking news of George Floyd's death in hands of police officers, for supposedly passing a counterfeit bill in a convenience store, deeply saddens us.
This is a tragic yet not an isolated incident. It is neither a new phenomenon. It is one of many racist killings committed by police officers in the USA and all over the world. Police brutality, violence and racial profiling is a daily experience of Black people. Racism is deeply ingrained into the law enforcement.
We, Members of the European Parliament's Anti-Racism and Diversity Intergroup, join the racial justice advocates in their demand for justice for George Floyd. We would like to express our support to #BlackLivesMatter movement and every other person acting upon their anti-racist values.
It is not anymore enough to be non-racist. It is time to act anti-racist!
Authorities have even bigger responsibility to do so.
The fact that not many perpetrators of racist crimes get the deserved punishment, if at all, and even less if the perpetrator committed his crime by using powers given by a state institution, is outrageous.
We urge governments and their institutions all over the world to protect lives of racialized communities!
In Europe, Black people, Muslims, Roma people, Jews, undocumented people and asylum seekers especially experience scapegoating and hate speech including by public figures and politicians. Lately Asians and those perceived as Asians have become a target of racism more intensively, triggered by the Covid-19. Roma, Muslims and refugees are now unsurprisingly blamed for spreading the virus as well. Jews experience more conspiracy theories. Black people are getting more and more racially profiled. Police became more violent. There is a disproportionate impact of Covid-19 on racialized communities and they are disproportionately dying of it as well.
There are also many reports of hate-crimes based on race and ethnicity in Europe. Discrimination in school, by children, parents, and teachers, discrimination on the labor and housing market, denial of sexual and reproductive health and rights to racialized women.
This list is not exhaustive!
Equally dangerous is that some individuals, groups, far-right parties, and even MEPs are using the crisis to further stigmatize already stigmatized communities and to fuel hatred.
We call on European leaders to break the silence and protect fundamental rights of people suffering racism and xenophobia.
There is still need for strong statements also due to public denial of racism in Europe by European leaders.
We are now not only deeply concerned that the EU support will continue not reaching the most marginalised, but that denial of structural or institutional racism in Europe will encourage far-right terrorism to become even more hostile towards racial and ethnic minorities.
Due to amplified racism in the times of Covid-19, we have already called for action and protection of fundamental rights of people suffering disproportionately on numerous occasions. Now, we wish to focus on breaking the silence surrounding police brutality, racial profiling and any other racist acts of the police and other authorities.
Police brutality and systemic racism kill. In Belgium on April 10 Adil C., a 19-year-old of Moroccan descent, was killed by police following a short chase. In France, on April 8, Mohamed G. was killed by police following a control concerning confinement measures. On the 16th of May, Sabri, an 18-year-old died following a collision with a police van.
The EU must take a strong and decisive stand against racism, violence and injustice. We stand by and reiterate the demands made by Black women MEPs and we call upon the European Commission to:
Issue a statement condemning the inflammatory words and actions of President Donald Trump, especially concerning the threat of military force towards citizens;
Acknowledge and condemn police brutality within the European Union;
Implement the European Parliament resolution on the fundamental rights of people of African Descent and other resolutions addressing racism and discrimination;
Foster implementation of all relevant policies and legislations and especially Racial Equality Directive, Employment Equality Directive and Framework Decision on combating certain forms and expressions of racism and xenophobia by means of criminal law;
Develop an EU framework for national strategies for the social inclusion of racial and ethnic minorities;
Collect and publish equality data disaggregated by racial and/or ethnic origin (as defined by the EU race directive) that is voluntary, anonymous and ensures the protection of personal data, self-identification and consultation with relevant communities;
Call for the Council to unblock the anti-discrimination horizontal directive;
Convene a European Anti-Racism Summit on combatting structural discrimination in Europe.
Our world has been unjust for too long. Racism is still a taboo for the public and ever a bigger taboo for institutions, including our EU institutions. This must stop now. Everybody must act to stop police brutality, racial profiling and any other form of institutionalized violence and racial injustice. The world must speak up for George Floyd and all victims of police brutality, in the USA, Europe and everywhere. We must fix our broken society and we must start fixing it now.
Anti-Racism and Diversity Intergroup (ARDI)