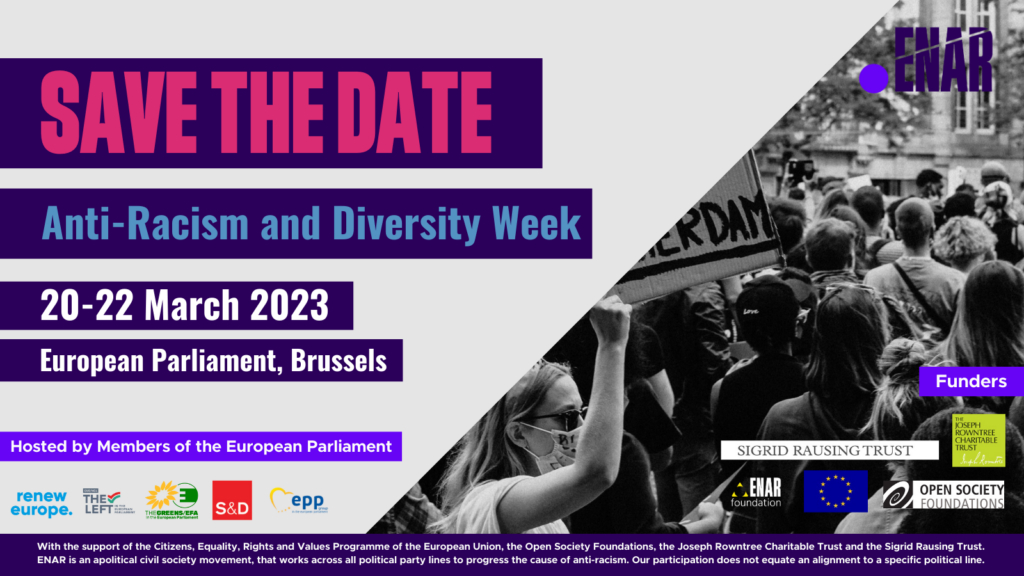 EVENT: ANTI-RACISM AND DIVERSITY WEEK 2023
To register and apply for workshops and preparatory policy meetings see the links below.
In light of the International Day for the Elimination of Racial Discrimination (21 of March), the European Network Against Racism and Members of the European Parliament, alongside Open Society-Europe and Central Asia and other partners are co-hosting the second EU Anti-Racism and Diversity Week in the European Parliament, Brussels 20-22 March 2023.
Join us for an interesting week where we will discuss racial discrimination in Europe, and how different forms of structural racism manifests. We will talk about existing policy tools to counter racism, and evaluate the ongoing European anti-discrimination agenda.
The week will cover:
EU Anti-racism action plan and National Anti-Racism Action Plans
Legislative gaps
Artificial Intelligence
Climate Justice
Intersectional discrimination
Migration
Remembrance and repair etc.
The event is a shared platform for institutions, civil society organisations, anti-racist actors, and activists to come together and lead on solution-based discussions to address structural racism.
The Anti-Racism week will be hosted by MEPs:
Cornelia Ernst
Pierrette Herzberger-Fofana
Romeo Franz
Samira Rafaela
Isabel Carvalhais
Monica Semedo
Peter Pollak
For more info about the agenda and to register, please click here.
Open call for organizing workshops.